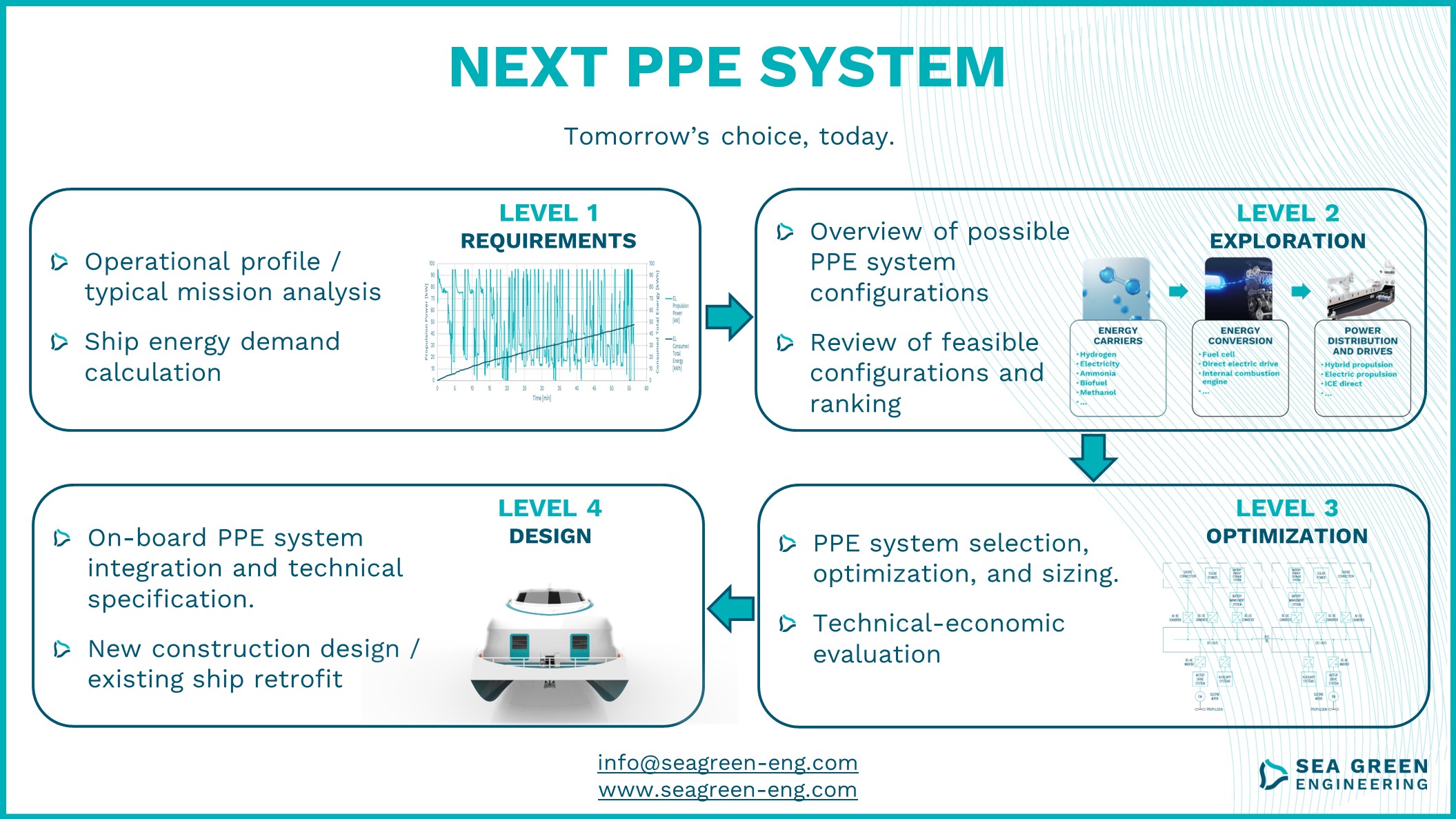 Energy transition and decarbonization of the maritime sector are underway, and new emissions regulations impose ambitious goals for the coming decades: minimal emissions of greenhouse gases, noxious gases (NOx, SOx) and particulate matter, and zero emissions by 2100.
Given the relatively long life cycle of ships, today's choices for shipowners, shipyards, and designers are difficult to make. What will be the fuels of the next decade, how will energy be stored, managed and distributed on board, what bunkering will be available in most ports?
To answer these questions and to provide our clients with all the tools and solutions to handle the energy transition, Sea Green Engineering offers its service:
"Next PPE System"

A service that Sea Green Engineering has already performed for several clients but now takes a defined form. A process to equip new and existing ships with alternative, low-emission PPE (Power, Propulsion, Energy) systems.
Next PPE System is offered at multiple levels.
Level 1: REQUIREMENTS.
Starting from the operational profile and typical mission of the ship, an analysis is carried out to identify the ship's energy demand: this will be the basis for the evaluation of possible PPE system configurations.
Level 2: EXPLORATION.
Known ship's energy demand, its characteristics and the customer's requirements, a multitude of alternative energy sources (hydrogen, methanol, ammonia, biofuels, LNG, CNG, electricity, …) as well as components to store it on board, convert it into usable energy (internal combustion engines, fuel cells, batteries, supercapacitors, …) and distribute it (hybrid propulsion, electric, …) are screened. A ranking of feasible solutions is then made and the ideal PPE system for the ship is agreed according to the client's needs.
Level 3: OPTIMIZATION
The next step is the optimization and sizing of the chosen PPE system and the technical-economic evaluation of the developed solution.
Level 4: DESIGN.
The final step involves: for existing ships, the development of the engineering required for the on-board integration of the PPE system and the unit retrofit, and for new construction the complete design.
For more information or to request a quotation, contact us at: